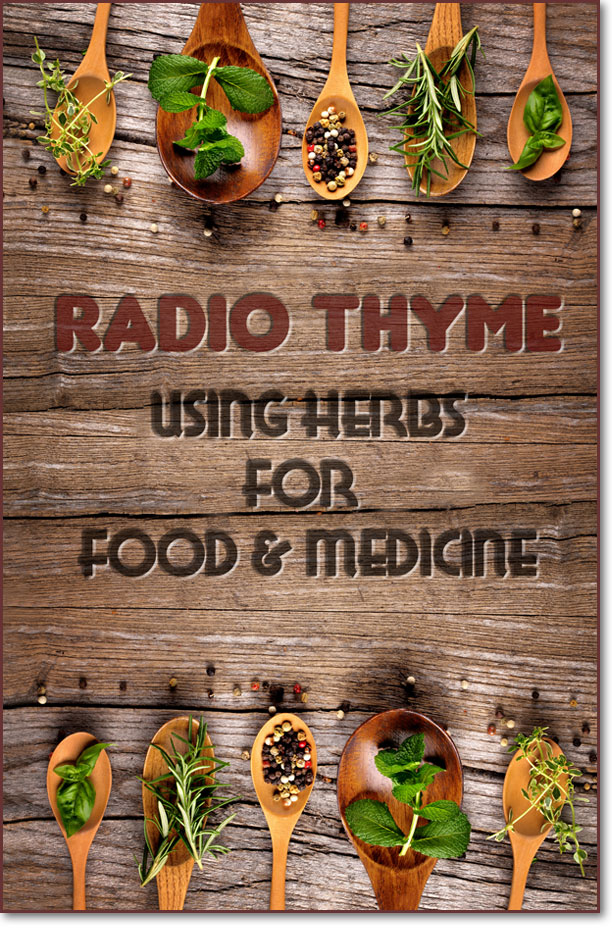 Join us at the station- 519 B North Bullard Street Beautiful downtown Silver City / corner of 6th – to fuel the launch of our new cookbook on
Thursday / 12 November 2015 / 4-7pm

These fantastic recipes are the contributions of our listeners and several of these culinary enthusiasts and GMCR / KURU supporters will prepare and present their dishes for your enjoyment!  Bellissimo!
Radio Thyme is the successor to our initial  – and successful! – and delicious! – offering,
Cookin' with the Radio with a focus on the virtues of both culinary & medicinal herbs.  It's the perfect way to support GMCR / KURU and whittle down that holiday gift list, pronto!  Pick up your copy (ies!) fresh hot from the printer at the launch party.  $15 or 2/$25  Such a deal!  Can't make it?  Then get yours any time at the Silver City Food Coop.
Let Radio Thyme be your guide and companion in using culinary and medicinal herbs to whip up tasty, health-promoting meals and herbal remedies.  Visit Radio Thyme for more info.
---
Thanks to your generous support, GMCR launched KURU 89.1 FM and we are now close approaching two years of 24/7 FM broadcast!  Whodathunkit?
One of the spark plugs of our pledge drive is Challenge Donations where those with deeper pockets urge us to collectively match their generosity.  We thank them profusely for their support and encouragement.
Lynda Aiman-Smith
Charlie Alfero
El Gallo Pinto
Susan Golightly
Jamie & Marion Newton and John & Terry Song
Morones & Knuttinen
Coyote Phoenix
Jeff Ray
Michael Selman & Sachiko Mori
Jan Sherman
Silver City Daily Press
Silver Portrait Studio
Jill Steidl
Kathleen Wigley
Early in our development we envisioned 1,000 members as a critical mass to insure stable operations and editorial independence.  Our inaugural pledge drive in April resulted in dozens of new members, and more just now in our Fall Pledge Drive but we still have a long way to go to reach that 1,000 member threshold.
And though we've finished our 2015 Fall Pledge Drive, if you're not yet a member there's never a better time than Right Now to push us a little closer to that magic number of 1,000 members.
And Hey!  It's easy!  Visit GMCR.org and select one of the PayPal options or pay with your credit card without having a PayPal account.  Or make a check payable to GMCR and mail it to the address below or just stick it in an envelope and drop it in the mail slot at the station if we're not in when you pass by.
And, of course, we want to express our appreciation and thanks to all who were there in the trenches for the duration of the pledge drive – answering phones, rallying our listeners, playing music, performing theater pieces, sharing their experiences, giving testimonials, and just plain gushing with enthusiasm about how GMCR has grown and gotten better.
And allow us to make mention of our fantastic food angels.  Unless We Eats We Dies!
Javalina
Diane's Bakery
Vicki's Eatery
Silver City Food Coop & Market Cafe
Jeanie McLerie
Monica Rude
Marion Newton
PJ Robowski
Joanie Connors
Kay Merritt
THIS is what Community Radio Looks Like!
Gila / Mimbres Community Radio – KURU 89.1 FM
519 B North Bullard Street  Silver City, NM  88061
GMCR.org – 575.597.4891 – email@GMCR.org
---
| | |
| --- | --- |
| Board of Directors | |
| Jamie Newton | Chair |
| Ken Keppeler | Vice Chair |
| Kyle Johnson | Secretary / Treasurer |
The arc of the moral universe is long but it bends toward justice
---
Studio So Beautiful!