Content is King

! –

Use Your Words

!

Yes!  We have a brand new program for the literati and avid reader… Use Your Words! – Writers Speak.  The host is our very own Silver City Poet Laureate, Elise Stuart, and in the spirit our flagship program, Earth Matters, she has assembled a crack team of local literary lights including…
Richard Mahler – known widely for his work with Desert Exposure
JJ Amaworo Wilson – writer in residence at WNMU and
Glenn Henderson at the controls
Use Your Words premiered earlier this month with an interview with Bonnie Buckley Maldonado reading from her voluminous and inspiring works of poetry and followed with JJ Amaworo Wilson discussing his debut novel, Damnificados.
If you missed them, follow the links above to hear those interviews and join them live on the 2nd and 4th Fridays of each month at 4:30pm.
---

And on Friday 1st of  July and
Monday 4th of July, we have a special treat for all you Mosh Pitting, Belching & Spitting, Puking & Safety Pinning Punk Rockers!   Here's a way out of all the Bollocks… PLEASE KILL ME!
Start with the proto-punks…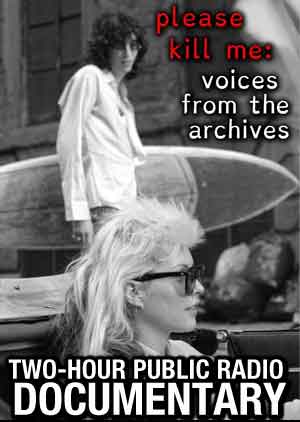 Velvet Underground, Iggy and the Stooges, New York Dolls and, of course, The Ramones who invaded Britain 40 years ago on the weekend of July 4th 1976, raised the freak flag rag of Punk Rock, pointed the way, and screamed CHARGE! for The Sex Pistols, The Clash and all the other bands that didn't matter.
ok?
OK!
---
But Hey!  That's Not All!
We have a new entrant in the DJ Derby!

GMCR is proud to present…  You Guessed It!  Random Radio!  Free form at its finest.  Fits all sizes and full of surprises.  Rod Stasick is your host and random character generator.  Random Radio is not on a regular schedule yet (get it?) but we're delighted with his 4th of July themed maiden meandering.  It kicks of on Sunday 3 July at 8pm and reprises on Monday 4th of July again at 8pm.  Check here for future broadcast dates and take a peek here for the playlist for this incidence… (coincidence?).


---
As we reboot for GMCR / KURU 2.0 we will continue to address the serious issues that confront us all.  And we are proud to announce that
Gila Mimbres Community Radio / KURU 89.1 FM


is the very first Community Radio Station
in the nation to present content from
The Real News Network! (http://therealnews

NULL

.com/t2/)
(http://therealnews NULL.com/t2/)TRNN is a grassroots alternative video media outlet covering an extraordinary range of issues and presents an amazing and unique breadth of academics, activists, authors, experts, and journalists.  GMCR / KURU had a brief shakedown run with The Real News of The Day –  a 5 minute headline news update – but we have moved up to a one hour magazine format that presents several of their news, analysis and commentary pieces every Wednesday at 7pm.  Visit The Real News page here.
---
THIS is what Community Radio Looks Like!
Gila / Mimbres Community Radio – KURU 89.1 FM
519 B North Bullard Street  Silver City, NM  88061
GMCR.org – 575.597.4891 – email@GMCR.org
---
| | |
| --- | --- |
| Board of Directors | |
| Jamie Newton | Chair |
| Ken Keppeler | Vice Chair |
| Kyle Johnson | Secretary / Treasurer |
| Carolyn Smith | Director |
The arc of the moral universe is long but it bends toward justice
---
Studio So Beautiful!