Please join us at
WNMU / Global Resource Center on
12 October 2012 / Noon
to hear Amy Goodman and Denis Moynihan speak in a benefit fundraiser for Gila / Mimbres Community Radio.
Tickets are available at Gila Hike & Bike and Alotta Gelato in beautiful, downtown Silver City or…
…click above to purchase online via PayPal.
Note that no tickets will be mailed to avoid lost/delayed tickets. All PayPal tickets will be at the Will Call line on the day of the event. Please print out and bring you PayPal receipt and ID.
Amy Goodman appeared in Silver City in 2009 in a benefit for GMCR and we are honored to present her once again.
Amy and Democracy Now! are at the core of GMCR's vision of community media in Silver City.  After 10 years as producer of WBAI/Pacifica/NY's Evening News, Amy launched Democracy Now in 1995.  During and since that time, Democracy Now's audience, recognition, significance and credibility have soared and it is the most accomplished and highest rated progressive news outlet throughout the world.
This appearance is part of the 100 city The Silenced Majority tour that commenced following DN!'s extended coverage of the Republican and Democratic conventions and will continue through the presidential election in November.  The Silenced Majority is her new book co-authored with longtime associate Denis Moynihan and she and Denis will be available to autograph books after she speaks.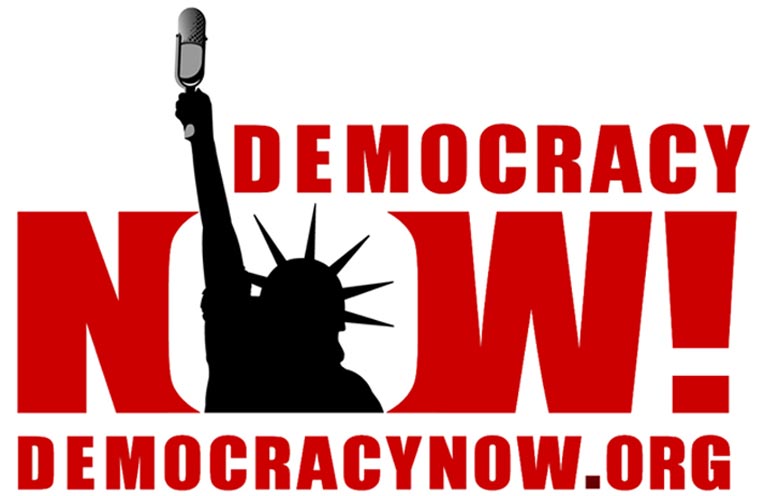 Subtitled Stories of Uprisings, Occupations, Resistance and Hope, it chronicles the recent struggles during which the Occupy  Movement and Arab Spring have "shaken the  windows and rattled the walls" of convention and the international status quo.
Each stop on the tour includes a benefit for a local community media outlet.  GMCR is honored to be selected here in Silver City and urge you to attend to show your support for local community media and the extraordinary work that Amy, Denis and the Democracy Now! team do every day.
We wish to thank our Event Sponsors for their support of Community Media…
Alotta Gelato / Bayou Seco / Curious Kumquat / Custom Steelworks
Javalina / Peace Meal / Prudential Real Estate / Pet Health Shoppe
Radio Free Silver! / Shevek & Co / Stream Dynamics
And we also thank our Community Partners who will have information tables at the event.  They do outstanding work and we appreciate and support them.  Please visit their tables and learn more about how they raise our quality of life.  /
ACLU / El Refugio / Gila Resources Information Project
PFLAG / Gila Conservation Coalition
Red Paint Tribal Council / Silver City Farmers' Market
Click here to view and download the event flyer.
If you would like to contribute to the success of this event, GMCR, DN! and local Community Media, please download, print and distribute the flyer among family, friends, colleagues and  coworkers and post it in appropriate high traffic areas like your local post office, bulletin boards, laundromats, dorms or whatever presents itself.  Ask permission of businesses or private property owners.  And when you do, please notify us via email@gmcr.org with the Subject: Amy Flyer.
ok?
OK!
See you there!