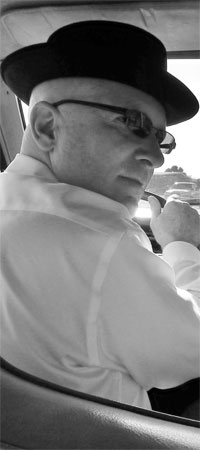 Here at GMCR and KURU we are proud to toot our horn for a new listening experience…
Cornucopia every Friday from 10 to midnight.
Mark Middaugh is your free form conductor and beat tour guide through the blind and back alleys, the dark and dead end of the street and the belly of the beast, invoking the spirit of Kerouac and the ghost of Ginsberg with a heady cocktail of blues, jazz, rock, pop and whatever happens next.
Got a Quest?  Request?  Question?  You can reach Mark at cornucopia@gmcr.org.
And in case you can't find your way home, here are the breadcrumbs from the excursion of
Friday 6 Mars 2015
---
Artist                                   Album                             Song
Ray Price                             Night Life                         Introduction and Theme  Night Life
Jerry Jeff Walker               ¡Viva Terlingua!                                                           Little Bird
Neil Young                           Tonight's the Night [RE 1990]                      World on a String
Flying Burrito Brothers     Farther Along – The Best of                   Six Days on the Road
Iggy Pop                               Lust for Life                                                         The Passenger
Joey DeFrancesco               Live – The Authorized Bootleg     I'm In The Mood For Love
Junior Wells                        Coming At You                                                        Tobacco Road
John Mayall                        Turning Point                                                                  California
Savoy Brown                       A Step Further                                      I'm Tired – Where Am I
Who                                      Who's Next [1995 Remaster]               Won't Get Fooled Again
José Feliciano                      On Second Thought d1x2                                           In My Life
Fred Neil                              The Many Sides of Fred Neil d1x2         That's the Bag I'm In
McCoy Tyner                      McCoy Tyner w/ Stanley Clarke & Al Foster                                                                                                                                  The Night Has  A Thousand Eyes
Gene Parsons                      The Kindling Collection                                                Gunga Din
The Beatles                          The White Album d2x2                                            Revolution 1
Duane Allman                      Duane Allman An Anthology d2x2     Livin' on the Open Road
Chad Mitchell Trio              The Slightly Irreverent – Typical American Boys                                                                                                                                        Draft Dodger Rag
Traffic                                   Smiling Phases d2x2                                 Walking In The Wind
Art Pepper                           Cool on the Coast d1x2                                                  Surf Ride
Blood, Sweat & Tears         Blood, Sweat & Tears                                           Smiling Phases
The Rolling Stones              Hot Rocks 1964–1971 d2x2                                    Brown Sugar
The Byrds                            20 Essential Tracks 1965–1990                         Chestnut Mare
Gerry Mulligan                   What Is There to Say                                   News from Blueport