In this installment of Civil Discourse – in keeping with GMCR & KURU's support of democratic and electoral processes – host Jamie Newton convenes a round table discussion with candidates for mayor & city council in the upcoming Silver City Municipal Elections.
The offices and candidates are:
Mayor
Ken Ladner, incumbent, unopposed
Town Council, District 2
Lynda D. Aiman-Smith, incumbent
Patricia "Eiline" Kingsley
Town Council, District 4
Guadalupe Cano, incumbent
Nicholas H. Prince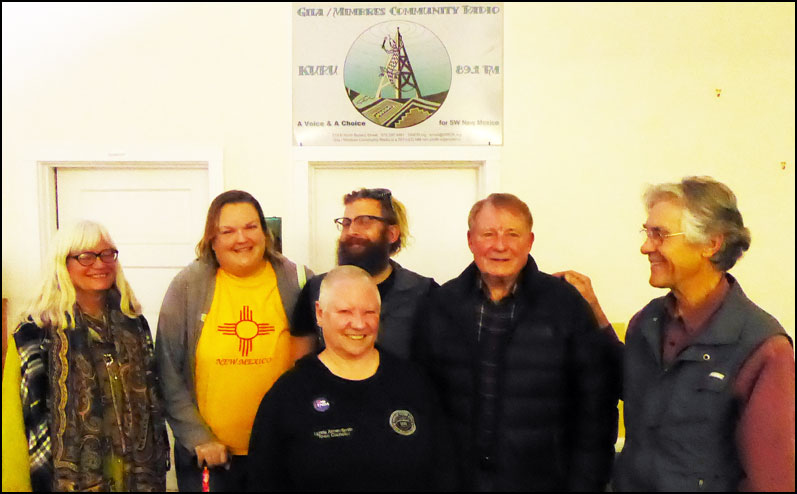 In addition to opening and closing statements, candidates were invited to respond to questions on a series of topics, including…
Steps the Town can take to strengthen a favorable climate for local businesses, with sustainable economic development.
Quality of life in Silver City – promoting security and a sense of well-being for all, while addressing the needs of the least fortunate residents.
The candidate's top 2-3 priorities during the coming term, if elected (or re-elected.
Water resources – protection and wise stewardship… including the candidate's views on Silver City's 2015 decision not to participate in the New Mexico CAP entity and on proposed diversion of the Gila River.
---
The live broadcast occurred on Monday, February 12, 2018.
The round table will be rebroadcast on…
Saturday / 17 February 2018 / 11am
Sunday / 18 February 2018 / 11am
Monday / 19 February 2018 / 4pm
Thursday / 22 February 2018 / 9pm
Monday / 26 February 2018 / 4pm
Thursday / 1 March 2018 / 9pm
Sunday / 4 March 2018 / 11am
Monday / 5 March 2018 / 4pm
Or listen at your convenience via the following link…